USB to serial converter is a vital tool for every embedded system engineer and most probably you should be having a couple of them in your lab from many years. I have also been using USB to serial converter for years, I bought them ready made from the market. But this year I planned to make one my self, I was already familiar with the chips used on such converters. One chip which I like the most is FT232RL it works very well under modern OS like Windows 10 and driver installation is very easy. So I downloaded the datasheet and studied about its working details. Then I created a schematic for a basic breakout board that has a USB connector and a simple output connector for serial data. Serial data has only RX and TX lines that I can connect to micro-controller or other serial device.
I am sharing the schematic of my board in this article.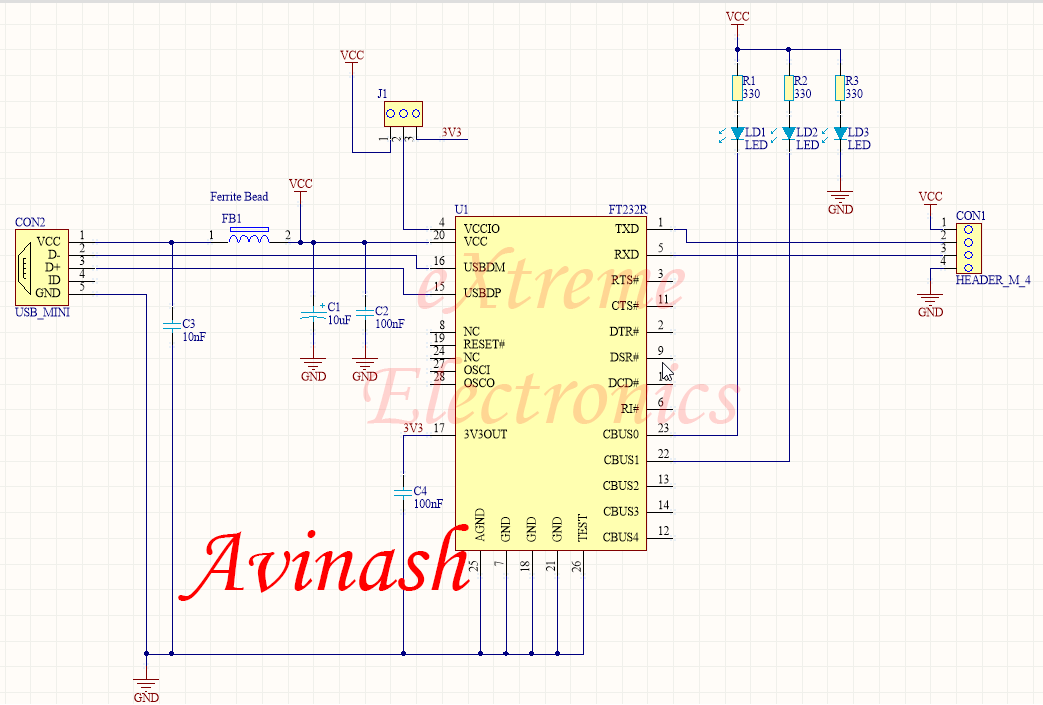 Fig. Schematic for FT232RL based USB to USART bridge module
As you can see on the extreme left hand side I have a USB connector which allows us to easily connect this module to USB port of our PC. The FT232 chip has a feature to select i/o voltage level. I mean MCUs such as AVR PIC or 8051 usually needs 5v i/o and modern chips such ARM (STM32 etc) needs 3.3v i/o. The jumper J1 helps you select this i/o voltage. As you can see I have placed 3 leds in my board, one is for power indication and other two are for serial transfer indication. One LED blinks when this unit sends out data(TX) and another on when this unit receive serial data on RX pin. Finally I have the four pin male header on the extreme right hand side of the schematic. This male header allows us to connect this unit to external world. It has the RX and TX pins of USART and 5v and ground pins.
PCB Design of USB to USART Bridge
One my schematic design was ready I moved on to design a PCB for this module. And below you can see the result.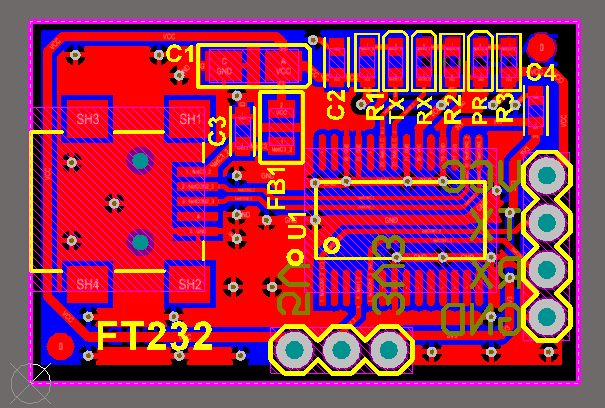 Fig. PCB Design for FT232RL
Now it was a challenge to fabricate this PCB at economical cost. Since it is a very dense board using fine pitch SMD components. Very fine micro vias are present on this board. Thus it needs modern PCB making technology. Thanks to our friend http://jlcpcb.com/ modern PCB manufacturing is available to every one on this planet even those who don't have deep pockets and backed up(funded) by big companies and universities. In only US$2 (at the time of writing) you have have sample of this PCB ready in your hands! Shipping charges extra but that is NOT a big problem and is only around US$6 to 8 so total expenditure is only US$10 at maximum.
Ordering PCBs for JLCPCB is also very easy thanks to the amount of invested they have done to automate the PCB ordering project. Drag and drop the gerber files and the system automatically understands the PCB data and shows you the preview. It automatically understands each layer of PCB. And their factory is also very well managed and PCBs are ready in 24 to 48 hours.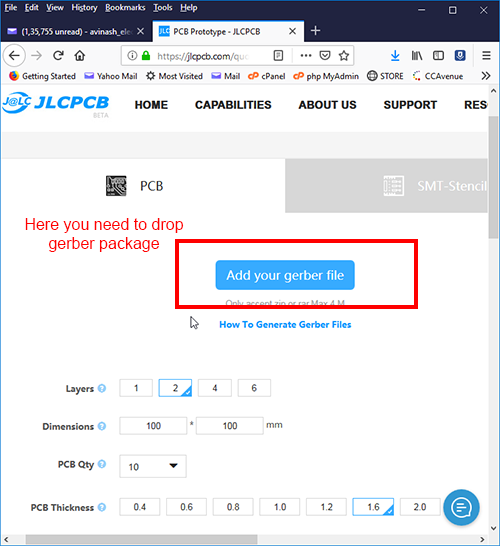 Fig. Easy to use Interface of JLCPCB
As soon as you will drop the gerber file package there, you will see a very accurate and beautiful preview of the PCB which helps you easily visualize exactly what your will get after manufacturing.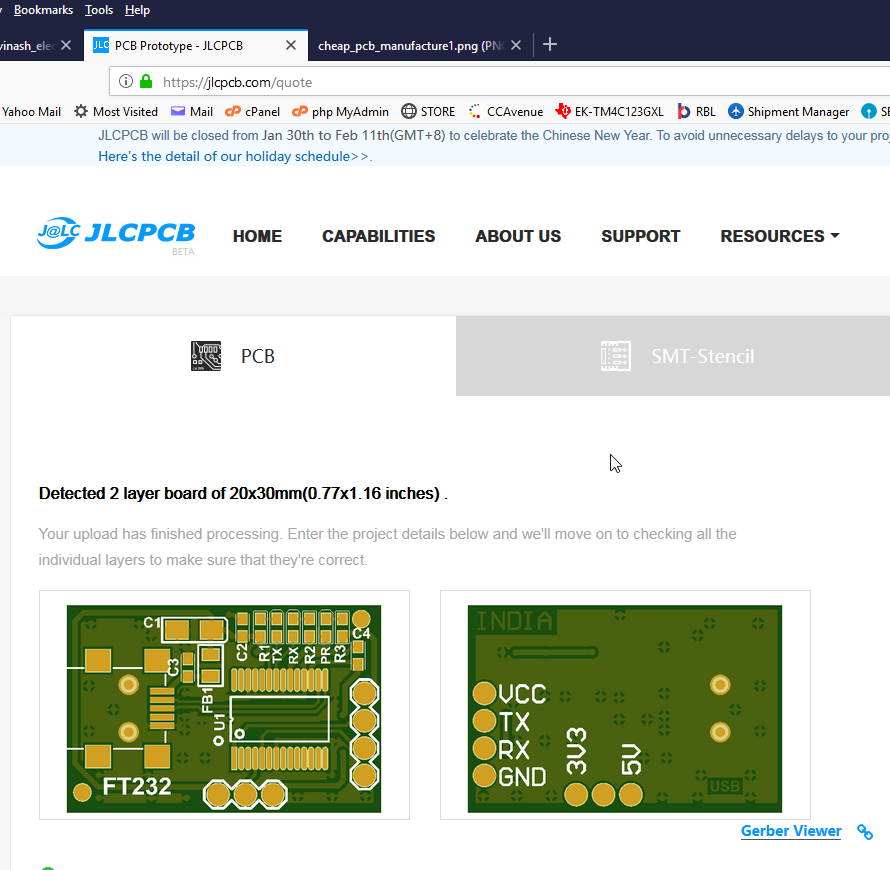 Fig. Preview instantly shows how your PCBs are gonna look like
You can download my gerber package and try for yourself. Download it from this link. And drag-drop the entire ZIP file there.
After few days of ordering at JLCPCB, my PCBs finally arrived at my hands!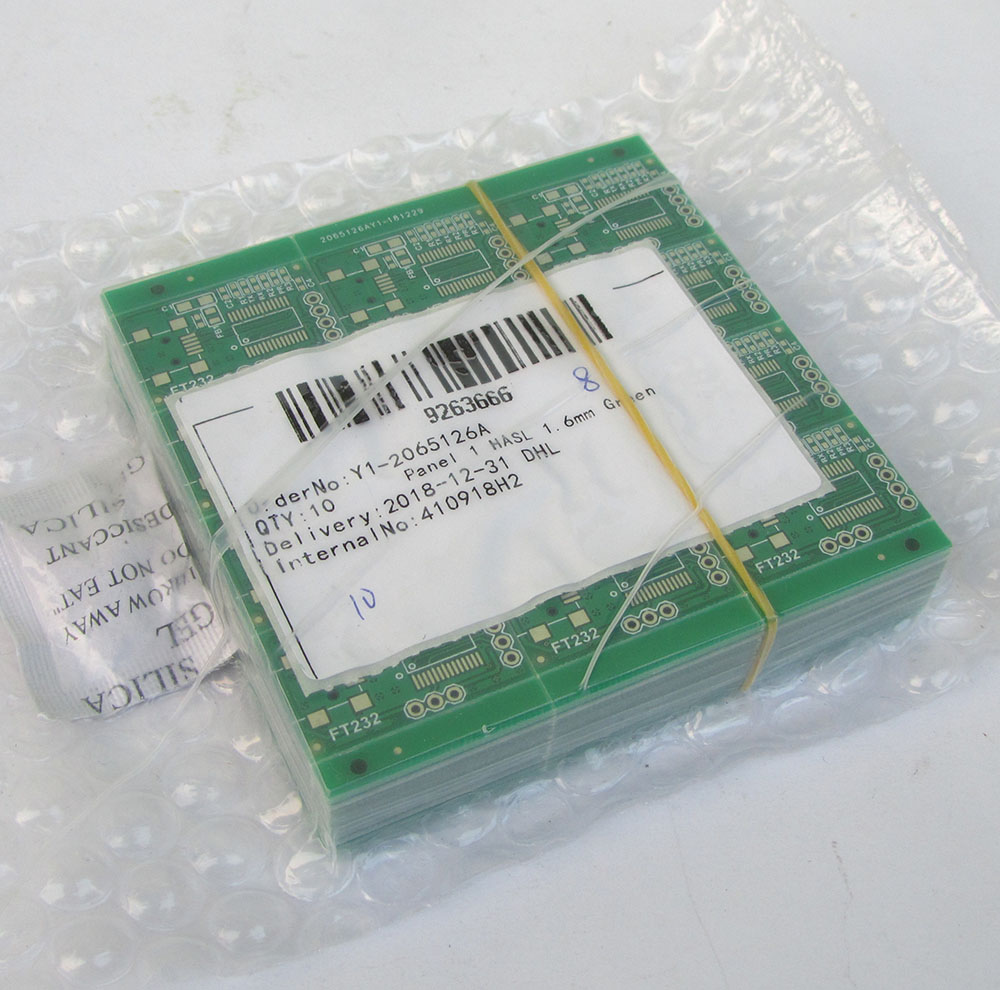 Fig. PCBs finally ready!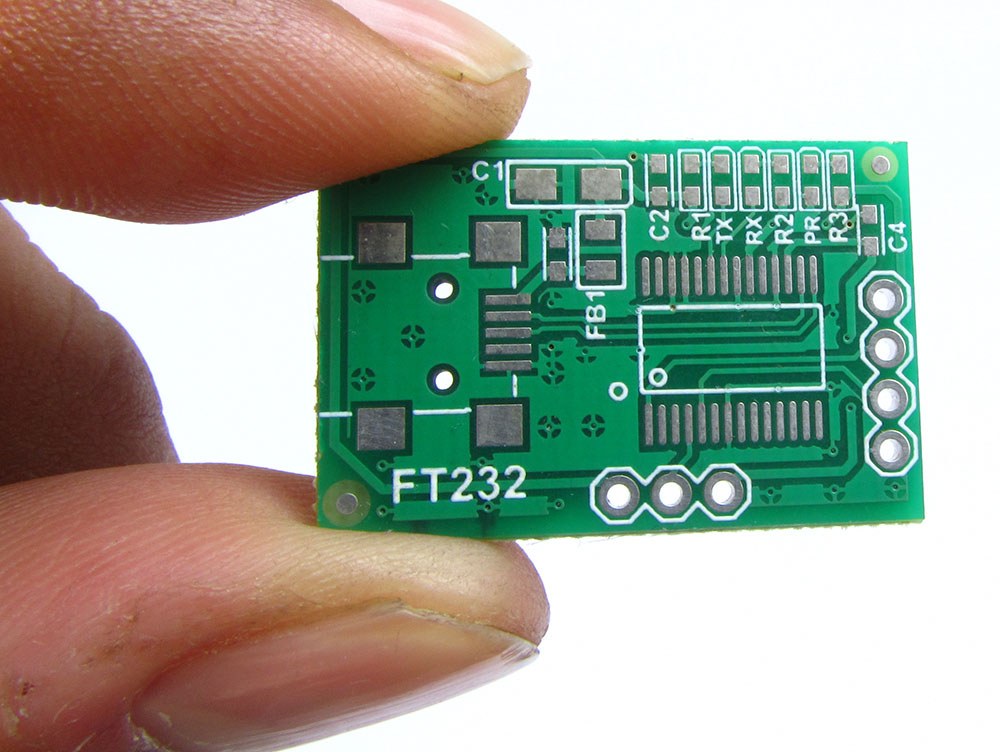 Fig. PCBs finally ready!
Since the PCBs are so high quality that soldering fine pitch and small components was easy and error free at the first time and here how it looked when I assembled every components in the board.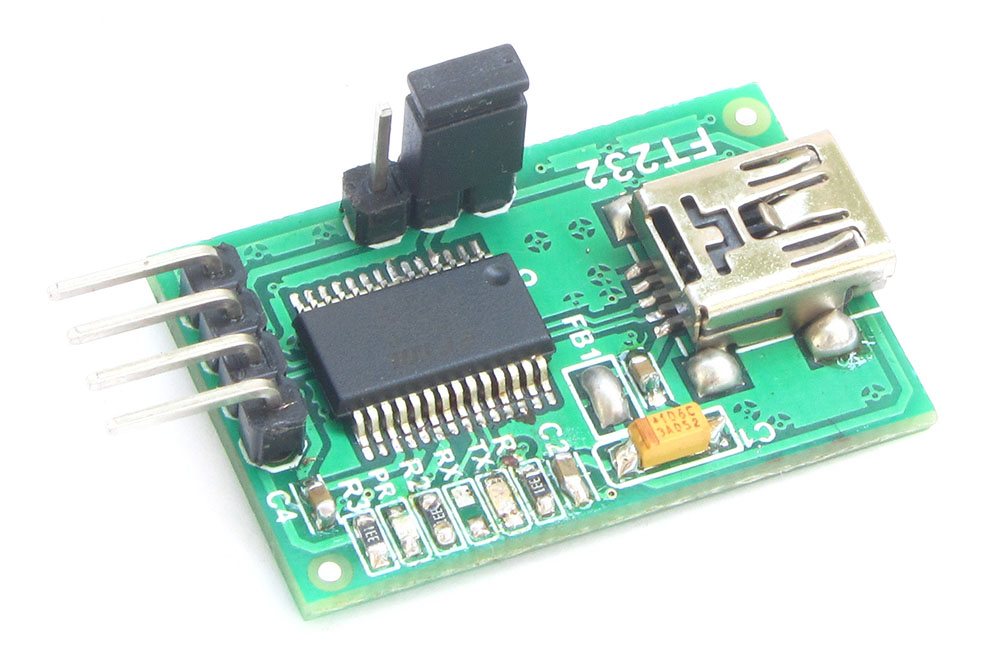 Fig. PCBs fully assembled and tested
One of the features of JLCPCB which I liked the most was real time status update available on my accounts order page. You can actually see exactly at what process your PCB is going through, like drilling or optical inspection.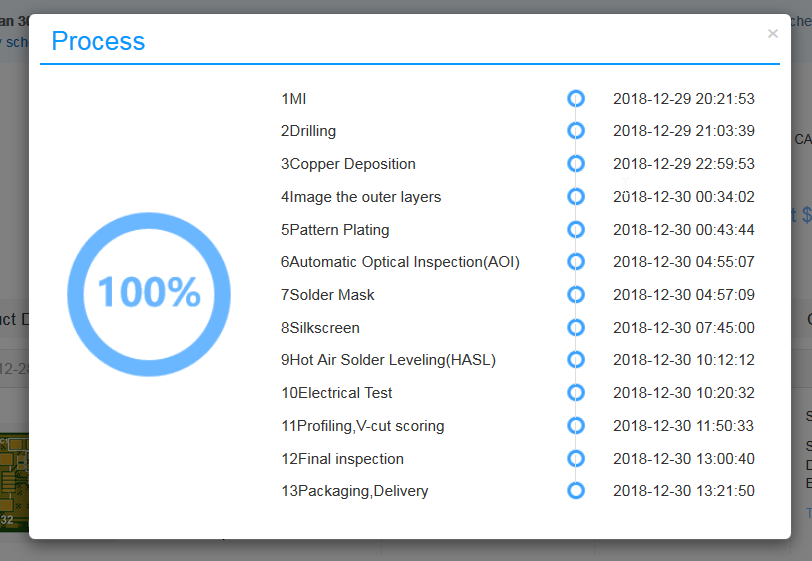 Fig. Real-time updates of PCB Fabrication Process
JLCPCB Prototype: $2 for 10 pcs PCBs, 48 Hours Quick Turn
China's Largest PCB Prototype Enterprise, 300,000+ Customers &amp 10,000+ Online Orders Per Day
Get quote online easily: https://jlcpcb.com/ quote
Facing problem with your embedded, electronics or robotics project? We are here to help!
Post a help request.