In this part we will compare the schematic design process in EasyEDA and Eagle. EasyEDA is free web based solution for schematic design, PCB design and simulation which is launched recently compared to Eagle. On the other hand Eagle has been popular with hobbyist and makers for a long time.
The first thing that comes to mind of a fresh new user who is just starting to learn schematic design is :-
"Hmmm, so this a schematic design software! Looks nice! I can see the sheet where my drawing will be made (this is the biggest visible area in any EDA software so not so hard to guess!) but where are the components? 🙁 from where can I bring that transistor that I wanna put on this sheet :-("
Well, if you are using EasyEDA it would not take more than a minute to find the left side bar. This is where you will find all basic electronic symbols! You would probably click on any component and then click on the sheet area to place it! Bingo! you just took the first step without reading any manual or tutorial! And remember the first step is the hardest but you just did it so easily you might guess how easy is EasyEDA after all!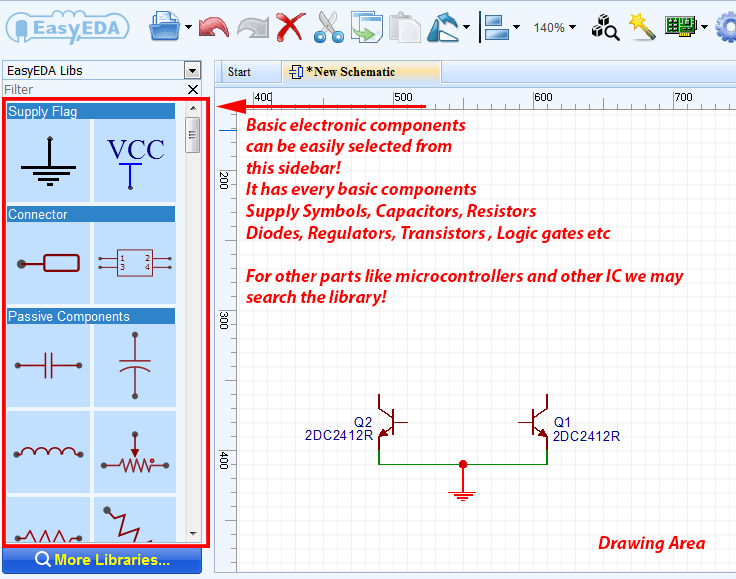 Now let us compare the same process done in Eagle. Process here is almost same but with few differences. And the most important one is that basic electronic components selection and placement is not so easy. They are not given any prominent area in the main window and thus not visible at first glance. You need to consult the manual or a tutorial just to find out that you need to use the Add tool (found in the mail tool palette) then search for the parts and finally place them. This makes it difficult for beginners, because if you search, say for "resistor", so many option comes in! This makes the user confused so as which resistor to choose and what is the difference between them? The tutorial at Sparkfun provides their own library of parts and the tutorial teaches you to make schematic using their own library only and not using the symbols present in Eagle.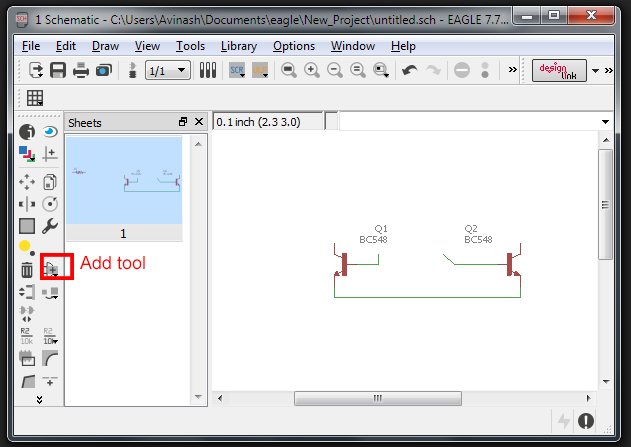 Interconnecting different components with wire is simple in both the softwares, select the appropriate tool and click on a pin of the component to begin wiring. Click on the next pin where this wire should connect to. By default in both EasyEDA and Eagle wires are bent at 90 degrees. In Eagle you can easily change this behavior to bend wires at 45 degrees too or even curved bends. While this feature seems unavailable in EasyEDA.
In coming parts we will have a look at various other phases of PCB design using these software and try to understand the conveniences and problems.
In the next part we discuss the PCB layout editors
JLCPCB Prototype: $2 for 10 pcs PCBs, 48 Hours Quick Turn
China's Largest PCB Prototype Enterprise, 300,000+ Customers &amp 10,000+ Online Orders Per Day
Get quote online easily: https://jlcpcb.com/ quote
Facing problem with your embedded, electronics or robotics project? We are here to help!
Post a help request.