In the last part of this article series we discussed schematic capture. After schematic design is completed comes the time for board design. This can be done by selecting menu convert project to PCB in EasyEDA and File>Switch to Board command in Eagle.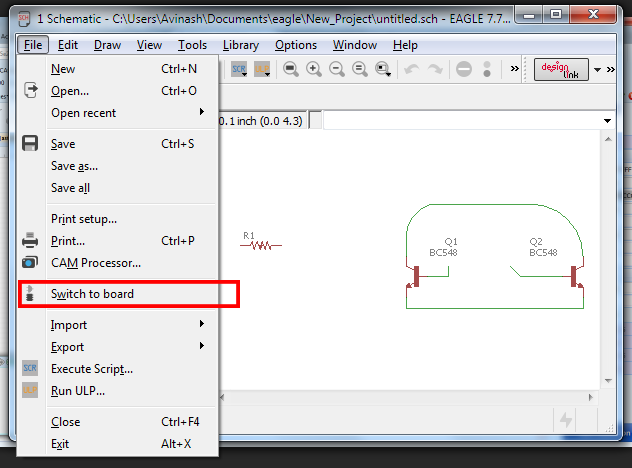 These will open up the second part of the software that deals with PCB design. Here we can define the physical shape and size of the board, place components on this board at their actual physical positions and draw (route) trace between the pins. When the board layout is opened first time in EasyEDA from a schematic. The software automatically creates a small board outline for you according to the number of components present in your schematic. This board's size is just enough to fit all the components. You are free to change the shape and size of this default board outline. The free version of Eagle limits the size of the board, so you cannot create a very big PCB. Thanks to EasyEDA you can use it to create complex and big boards absolutely free of cost!
PCBs software uses layer system to make things easy to wok with, logically different part of the PCB artworks are assigned different layers. For complete beginners in PCB designing I would not confuse them with description of too many layers. Main layers that are dealt with in most PCBs are the top copper layer, the bottom copper layer and the silkscreen layer. The top copper layer contains the pads are tracks on top layer, similarly the bottom layer contains the tracks and pads of bottom layer. You must have seen on top of PCB that outline for components and their reference (like C1,R1) are printed in white. The art work and text in this layer is called the "silkscreen".
In PCB designing software these layers are assigned different colours.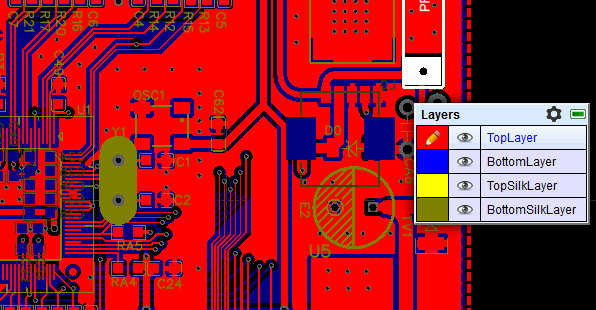 In the image above, top copper layer is shown in RED, bottom copper in blue and top silk screen in yellow. On the left you can see layer palette. This palette can be used to toggle the visibility of layers using the eye icon. In Eagle this layer palette is not visible by default. You need to use layer settings button from the toolbar.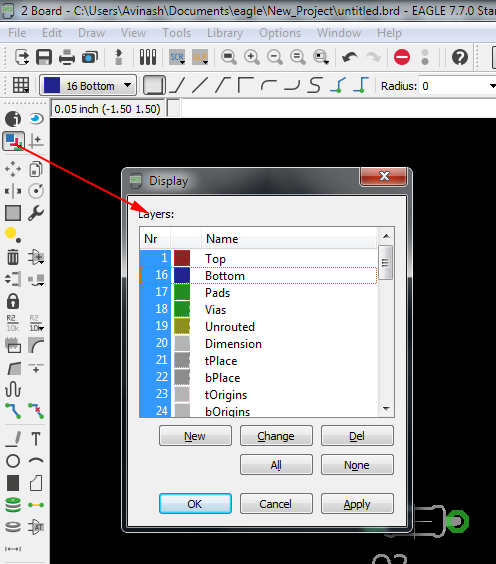 In Eagle there is too many layers that is good for finner control by an expert user but this might also confusing for a user who is new in this field.
The first step in PCB designing is placement of all components in position where it is easy to interconnect them using tracks. This is very easy in EasyEDA, just select a components by clicking on them. Selected components will be highlighted in white. Now you can move them using the arrow keys of the keyboard or also by dragging them with mouse. Selected components can also be rotated using the R key on keyboard.
In Eagle you have to use separate move and rotate tools from the toolbar to do the same task. One thing I really liked about EasyEDA is that you can easily move the reference of parts (like R1,C1,U1 etc) in the same way like you move the components. I cannot figure out easily how can I do the same in Eagle.
After placement is complete, its time for routing. That means connecting the pins of components using copper tracks. This is done by using the TRACK tool in EasyEDA or Route tool in Eagle. Process is very similar in both the software. Click the pins on the components and then move and connect to the other pin.
Deleting track in Eagle was not so user friendly while in EasyEDA I simply selected the track and hit the delete key on the keyboard.
JLCPCB Prototype: $2 for 10 pcs PCBs, 48 Hours Quick Turn
China's Largest PCB Prototype Enterprise, 300,000+ Customers &amp 10,000+ Online Orders Per Day
Get quote online easily: https://jlcpcb.com/ quote
Facing problem with your embedded, electronics or robotics project? We are here to help!
Post a help request.