Hi All,
I was adding support for some chips with big flash memory (like ATmega2560 etc.) in my Programmer Software eXtreme Burner – AVR. But right now I do not have any ready setup with ATmega2560 so I ask anyone of you who have got a ATmega2560 (or ATmega128) setup to please carry out a simple test.
Just download the eXtreme Burner AVR 1.3 Beta. And try to flash the following hex files.
And update me the details via a comment on this page.
Serial Interface.
Now your USBasp can double as a USB to serial converter at NO extra cost! We now have a basic serial terminal integrated in the eXtreme Burner AVR ! The terminal can be launched from the Tool Menu. But you need a modified USBasp Firmware to use the terminal. It is available from here.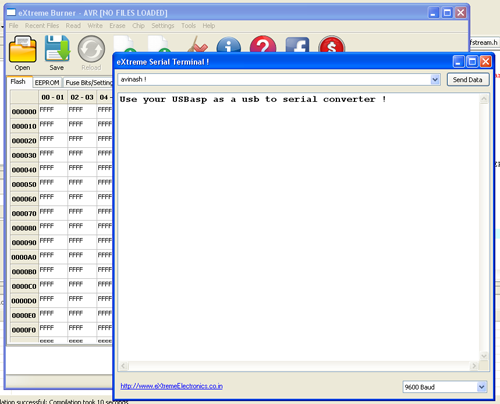 eXtreme Burner AVR v1.3 Beta !
JLCPCB - Prototype PCBs for $2 + Free Shipping on First Order
China's Largest PCB Prototype Manufacturer, 290,000+ Customers & 8000+ Online Orders Per Day
10 PCBs Price: $2 for 2-layer, $15 for 4-layer, $74 for 6-layer
Facing problem with your embedded, electronics or robotics project? We are here to help!
Post a help request.