Hello Friends,
Welcome to my web portal. After my long play with the amazing little chips called microcontrollers, I decided to help all those who are also interested. I knew that the information on the net was very scattered and a beginner soon find himself/herself lost. So I came up with this !!! I decided to keep things simple,organized and in one place. I have tried to go in such a manner that a complete beginner to the subject may keep up. If you are having any types of problems or just want to help others please join our forum . Also check out our shop.
If you find this site useful please drop a comment or e-mail me, I would be glad to hear from you.
Avinash Gupta
avinash@extremeelectronics.co.in
News
Jun 17, 2010
Easy 8051 Development Board Launched !
Good news for all 8051 lovers. We have an easy to use development kit which can be used to program and run application for 8051 based MCUs. Whats great is it can be directly programmed by USB Port! So don't miss it.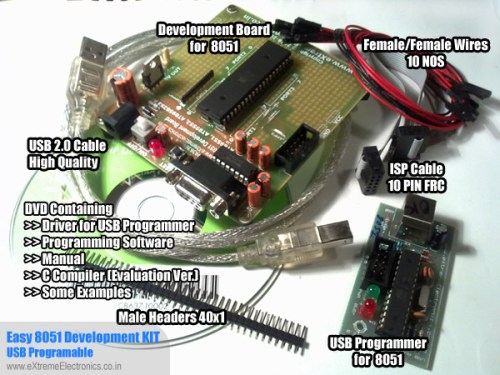 Easy 8051 Development Board.
Feb 16, 2010
xBoard v2.0 Launched !
New version of our popular AVR development board is now available to purchase! This board is based around 40 PIN Atmel AVR ICs like ATmega32 and ATmega16. It has onboard Motor Controller, LCD Module, RF Module etc. It can be easily programmed by USB Port. The Kit comes with many tutorials and sample program. Nice development system to learn Microcontroller programming and development of a variety of projects. This version is optimized for small hobby robotics. And don't forget to avail the introductory discount of Rs. 100 ! (Limited Period Offer)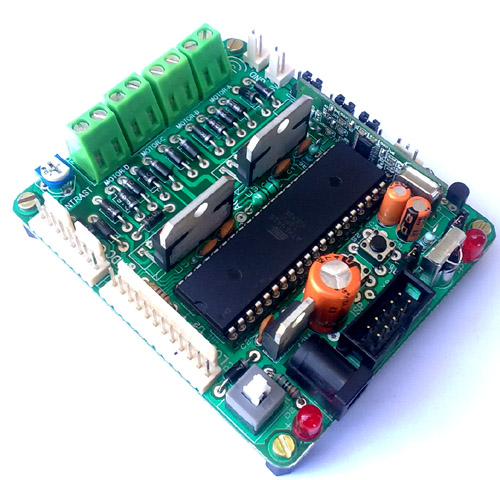 xBoard v2.0 : Advance Development Board For AVR ATmega32
Dec 1, 2009
xBoard MINI v2.0 Launched !
An easy to use development board for 28 PIN Atmel AVR Devices. The board has LCD, Remote Control, Keypad, Real Time Clock, Serial Communication, Temperature Sensor etc. It comes with easy to understand tutorials and source code. Read More …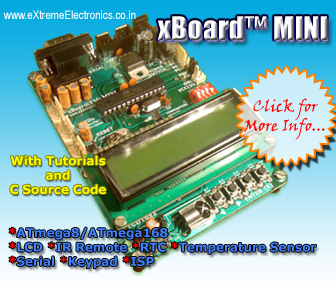 xBoard MINI v2.0
—————
May 1, 2009
eXtreme Burner PIC v1.0 Launched !
An easy to use programmer with USB Connectivity for latest PIC18F Micros.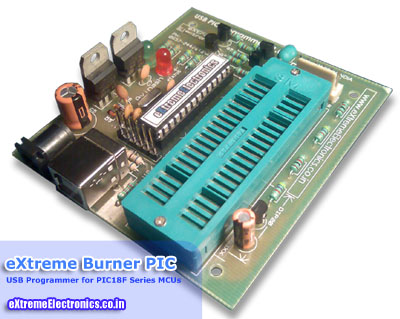 eXtreme Burner PIC – USB Programmer for PIC Micros
—————
April 26, 2009
eXtreme Burner 51 v2.0 Launched !
The improved version of our popular programmer for 89S series microcontroller is available!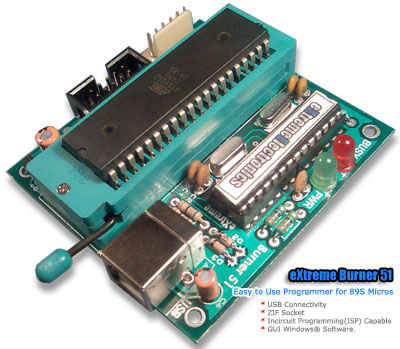 eXtreme Burner 51 v2.0 – USB Programmer for 89S52 89S51 Micros
—————
Jan 23, 2009
USB AVR Programmer v2.0 Launched !
This is the latest and Improved version of our popular Programmer for AVR Series MCUs.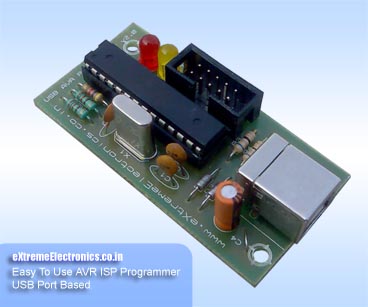 USB AVR Programmer v2.0