Introduction
28 PIN AVR Development Board helps user create and test applications using 28 PIN AVR MCUs. The board has the basic circuit required for the AVR to function. The board can be easily programmed using any in-circuit programmer (ISP). This features help you quickly update the program and test again and again during the program development phase. As you do not have to remove the microcontroller and put into the programmer each time. This greatly saves time and damages to MCU's pins.
You can power the board using standard 12V adaptor. The board has in built regulator to provide clean 5v to the MCU. There is also a on/off switch and power indicator LED to further ease your life.
Know Your Board
The image below show the main parts of the board.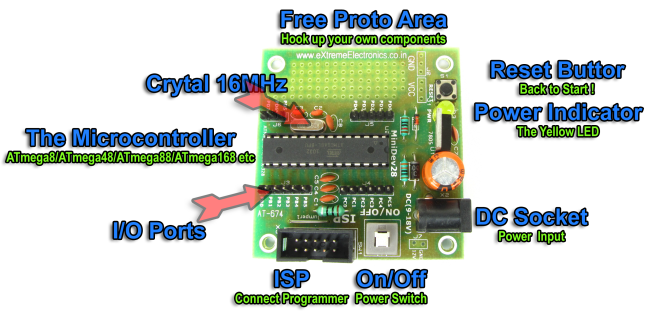 Fig. Parts of the board
Main Power Supply Input : Standard DC socket for powering the board. Use a 12v 1A adaptor with Center positive pin.
Extra 5v Output: When you attach some other peripheral to the development board, this point can be used to supply that peripheral with regulated 5 volts.
Power Indicator LED.
ISP Header: This is used to update the program of the MCU without removing it from the board. See this article for more information.
Free Proto Area: Here you can add more components to the board as required by your application. You can then connect them to the i/o ports. The Vcc and GND are available near by to power your extra devices. For example you may connect LEDs, Motor Driver etc in this free area.
I/O Ports: The i/o ports of MCU is available in standard 0.1inch male headers. You may use single PIN female to female burg wires to connect these i/o ports with other modules.