Hi All,
We are planning to make our Software eXtreme Burner – AVR available in your local languages! So we need translators. Those who are interested in translating the app may leave a comment here, so that we can contact you latter.
How to translate?
Download the message catalog file (English). It has a pair of string values named msgid and msgstr. The msgid has the original English text. You have to translate it in your local language and enter in the field msgstr. For example see the images below. Finally you can send the completed message catalog to my email id given in the catalog file itself.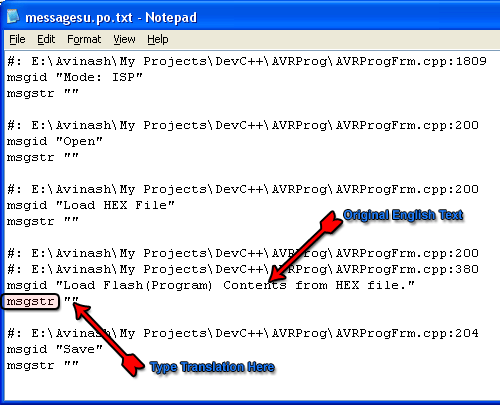 Completed Translations
Ukrainian Translation by Mr. Pavlo Kasperskyi
German Translation by Håkon
Spanish Translation by Breogan
Slovak Translation by Alex OM3TY
Czech Translation by Martin Ondrák
Bengali Translation by Muhammad Hasan-uz-zaman (Hasan)
Portuguese Translation by Mauro Souza
Waiting for others to finish rest languages !
We highly recommend EasyEDA for Circuit Design and low cost PCB Prototype.
Try this tool for an Easy-to-Use way to design circuits and layout PCBs
Only $9.8 for 10 pcs Circuit Boards, quick delivery,100% E-test
Facing problem with your embedded, electronics or robotics project? We are here to help!
Post a help request.