This pictorial step by step guide you show you how you can connect a serial RFID Reader to your PC using USB Port. Before you begin please read the following tutorial on RFID Technology and its application to make yourself familiar with it.
Also you will need the following modules, they can be purchased from our online store.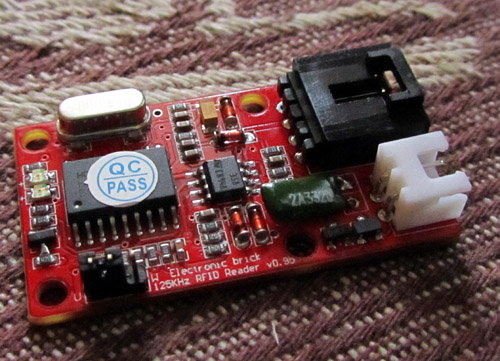 Fig.: Serial RFID Reader.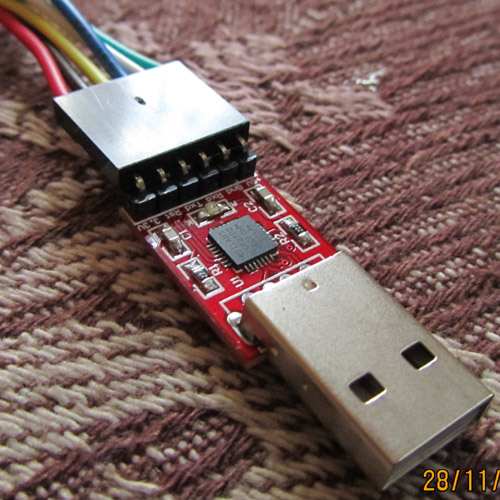 Fig.: USB to TTL Converter.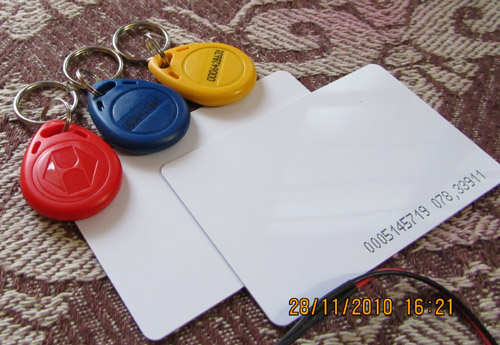 Fig.: RFID Tags (Comes with the Reader).
The RFID Reader is used to read the tags. The tags can be used to identify peoples. For example in a electronic door lock, the user just need to bring a tag (which can be a card or keychain) near the antenna. The system identify the user and present a welcome message (like "Welcome Mr. Steve"), then it prompts for password. Its like your ATM card but the advantage is that you don't need to bring it out from your wallet. Just touch the wallet to the antenna, and that's it!
The USB to TTL Module is used to connect the RFID reader to PC.
Connect the RFID reader to USB/TTL Converter as show in in the image below.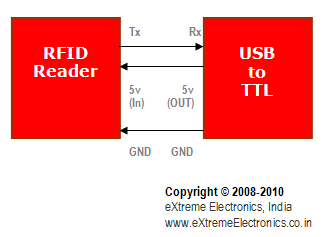 Fig.: Connections.
The connection is simple. All the PIN names are written on the PCBs itself so no confusion while wiring. After that attach the antenna to the RFID reader module.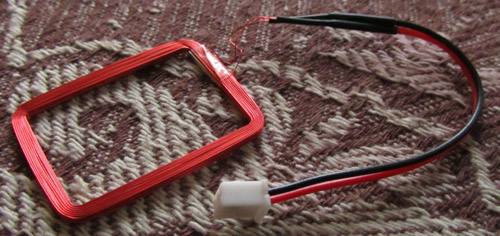 Fig.: RFID Antenna.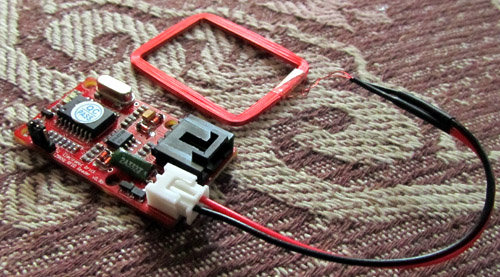 Fig.: RFID Antenna Connected.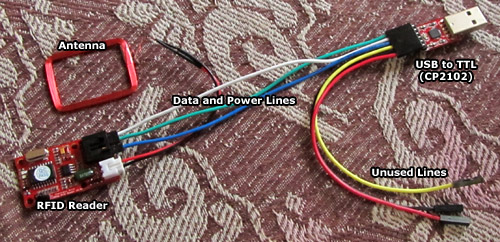 Fig.: The Whole Setup.
Now make sure the data mode select jumper is towards the 'U' side.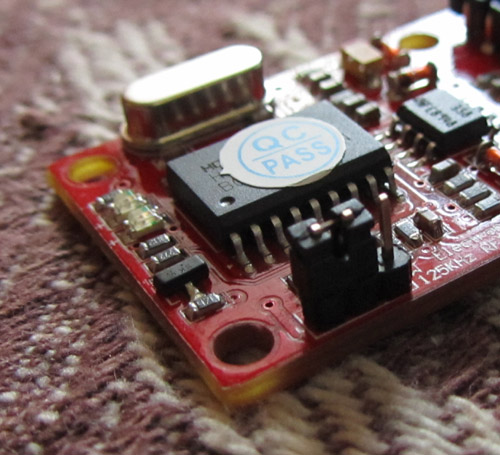 Fig.: Mode Select Jumper.
Finally connect the USB to Serial Converter to your PCs USB port.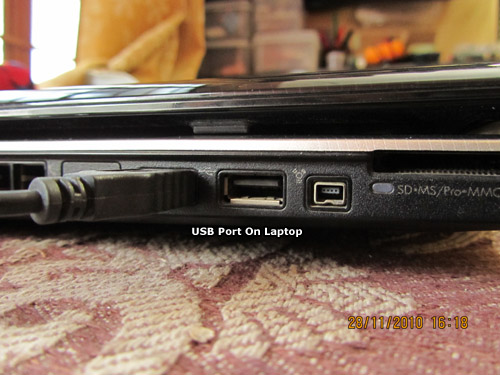 Fig.: USB Port.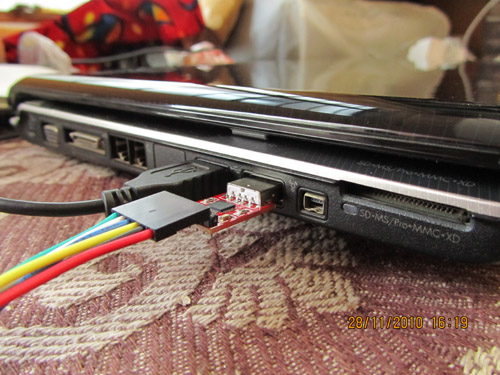 Fig.: USB to Serial (TTL) Connected.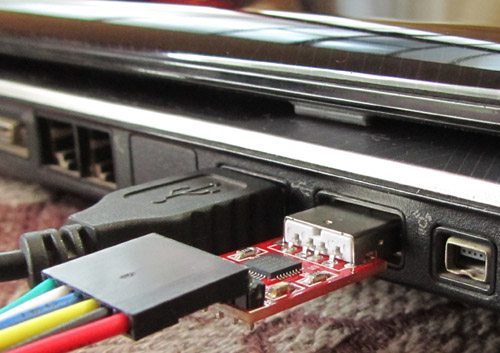 Fig.: USB to Serial (TTL) Connected.
On PC, Start Real Term. It is a terminal program used to send receive text data over serial ports. RealTerm can be download from this link.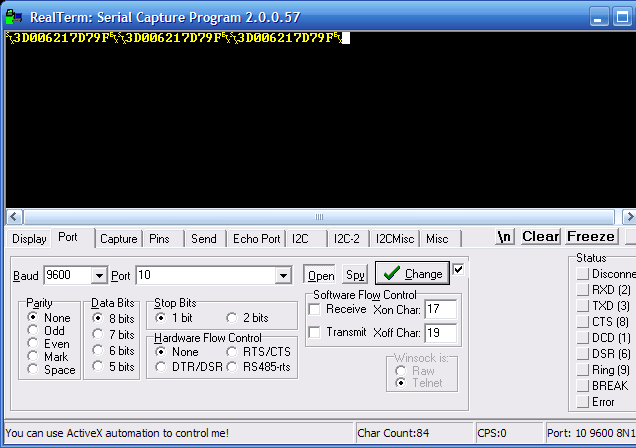 Fig.: RealTerm Window.
On RealTerm Window, go to port tab and select the settings as shown below.
Baud = 9600
Port = Port Number Assigned to the CP2102 Module. (Can be found out from, Right Click My Computer, Properties->Hardware->Device Manager->Ports)
Parity = None
Data bits = 8
Stop Bits =1
Hardware Flow Control =NONE
The Top black portion on the Realterm window shows the data received from the port. When you bring a tag near the Antenna, the green LED on the RFID Reader will blink and the data will be shown on real term. The above images shows three data packets. The same tag was brought close three times.
Interpreting RFID Data Packet.
The RFID data packet is made up of 14 bytes. The first is a start byte whose ASCII value is decimal 2. This is shown in RealTerm as STX. Then their are 10 ASCII chars which is the ID of tag in HEX format. After that their is a two byte check sum, this is also in hex. Finally their is a end byte whose ASCII value in decimal is 3. It is shown in RealTerm as ETX.
For example in our case card data is 3D006217D7 so the checksum is calculated as follows.
(3D) XOR (00) XOR (62) XOR (17) XOR (D7)
You can use Windows Calculator is Scientific Mode (View -> Scientific) to calculate the above. Make sure the calculator is in HEX mode.
The result comes to be 9F
Which you can see is present as checksum in the above packet (shown in RealTerm)
To convert the tag number to decimal leave the first two digits on the tag data and take the rest 8 digits. Ex
Tag Data 3D006217D7. Leave 3D and take 006217D7. Paste that in Windows calculator (in HEX mode) and change to Decimal mode by clicking "Dec" which is placed next to "Hex". Calculator will convert the data to decimal number. You can confirm that this number is also printed on the tag. In our case it comes to be
6428631
Which was printed on our tag!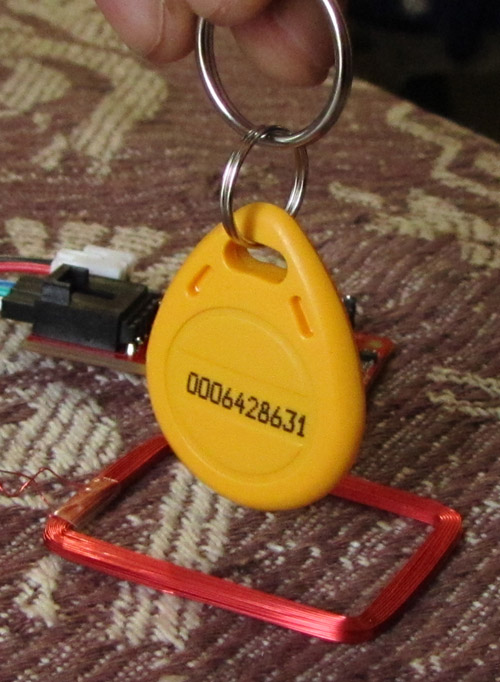 Fig.: Check out the number printed on tag.
Related
JLCPCB Prototype: $2 for 10 pcs PCBs, 48 Hours Quick Turn
China's Largest PCB Prototype Enterprise, 300,000+ Customers &amp 10,000+ Online Orders Per Day
Get quote online easily: https://jlcpcb.com/ quote
Facing problem with your embedded, electronics or robotics project? We are here to help!
Post a help request.