In this article, I will show you how to make your own AVR development board for ATmega8 microcontroller.
What is a development board?
In order to learn any MCU like AVR we need a AVR MCU that has all the basic connections like power supply, crystal oscillator, proper reset signal and an ISP connector for uploading a program. All these things are required for any project you will make. A development board is a circuit board that contains all these connections and it has connectors for IO pins of MCU so that they can be connected to any external circuit with ease. So as you see its is like a basic framework. Once you make a good development board and test it, you will have a solid foundation and for your project you can concentrate on the specific requirement of that project. This will also reduce the chance of making errors. Some more complicated development boards have a RS232 level converters(for serial communication) ,motor control chips etc.
Now let's do it!
I have described the basic connections required by any AVR MCU in
Part III of my AVR tutorial series
so I am jumping right to the schematic.

Fig – Development board schematic.
Things you need are
| | | | |
| --- | --- | --- | --- |
| S.No | Components | Name | Value |
| 01 | ATmega8 | IC1 | |
| 02 | Voltage Regulator IC7805 | IC2 | |
| 03 | Resistance | R1 | 330ohm |
| 04 | Resistance | R2 | 1k |
| 05 | Capacitor(Electrolytic/Polar) | C1 | 100uF |
| 06 | Capacitor(Electrolytic/Polar) | C2 | 100uF |
| 07 | Capacitor(Electrolytic/Polar) | C6 | 1uF |
| 08 | Capacitor(Ceramic disk type) | C3 | 0.1uF |
| 09 | Capacitor(Ceramic disk type) | C4 | 22pF |
| 10 | Capacitor(Ceramic disk type) | C5 | 22pF |
| 11 | Capacitor(Ceramic disk type) | C6 | 0.1uF |
| 12 | Inductor | L1 | 10uH |
| 13 | Diode | D1 | 1N4007 |
| 14 | Crystal Oscillator | Q1 | 16Mhz |
| 15 | LED | LED1 | |
| 16 | Tactile push to on switch | S1 | |
| 17 | Connectors,IC Socket, Power jack, general purpose PCBs, wires etc | | |
Note: The voltage rating of C1 must be at least twice the input voltage while that of C2 & C6 can be 12 Volts or more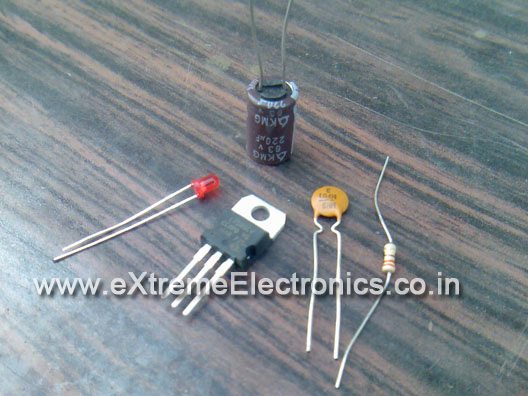 Fig – Components for power supply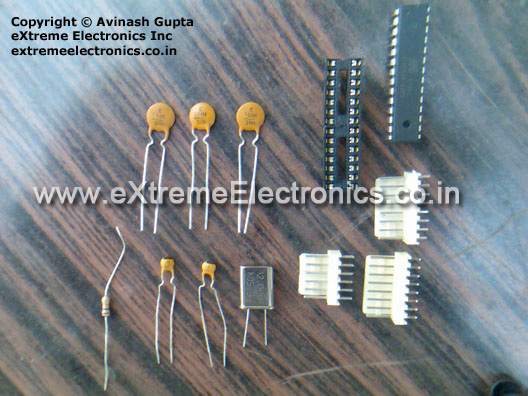 Fig – ATmega8, Resistors, Capacitors and Connectors.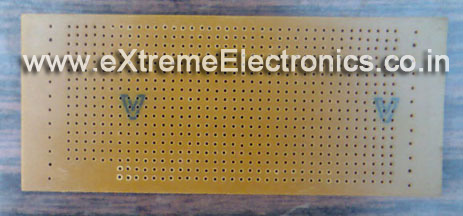 Fig – Veroboard / General purpose PCB – Top View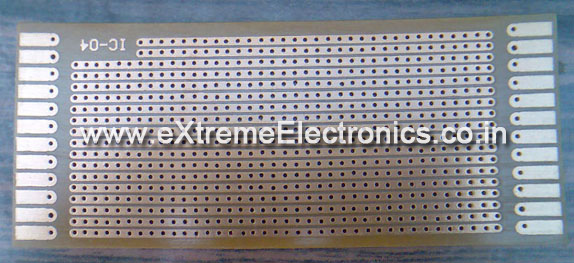 Fig – Veroboard / General purpose PCB – Bottom View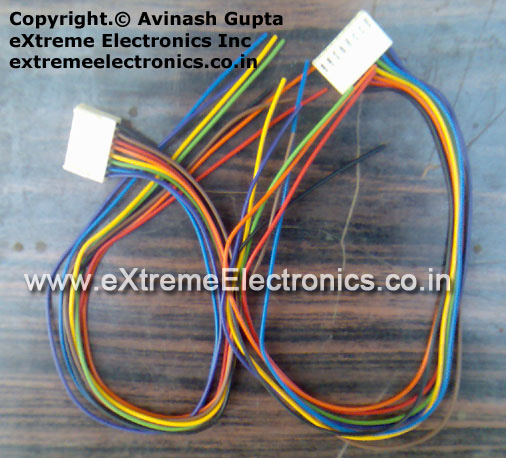 Fig – Connectors for easy connection/disconnection from MCU pins
Now connect the components according to the schematic on a general purpose PCB. You will get something like this.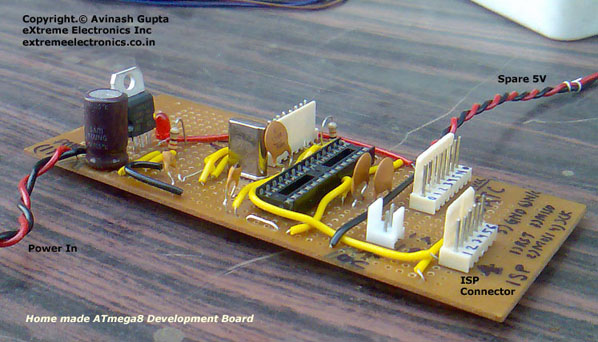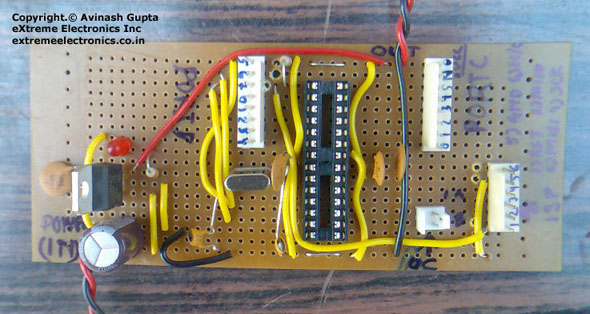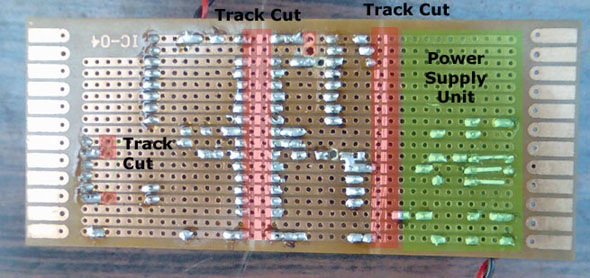 Fig – Final Board with all components assembled.
Before inserting the MCU, first test the board for any connection error. Make sure everything is according to the schematic. Then check for any soldering errors like loose joints or unwanted shorting by solder. Finally connect power supply of 8 to 18 volts to the circuit by using an adaptor, battery, or transformer (after converting to DC). Check the power pins of MCU in the IC socket with a multi-meter for voltage. It should be
very close to 5V
. If everything is ok your board is ready.
Note
Some difference in my prototype and the schematic.
The value of C2 is 100uF but I have used 0.1uF ceramic type.
I have not used the reverse protection diode D1. But you should for safety.
I have used 220uF capacitor as C1. Anything over 100uF will do. Also the voltage rating must be double the input supply voltage
I have not used the reset switch. However, it is very convenient if we have one.
I have not used C6(1uF) as it is required for reset switch
I have not used L1 for connecting the AVcc to Vcc, instead I have directly connected them. But if you are planning to use the ADC you should use the L1 as it makes the ADC much accurate by suppressing noise
I have connected a 0.1uF capacitor from Vref to GND as it is suggested by datasheet. Only necessary if you are using ADC.
The same board made with a professional PCB.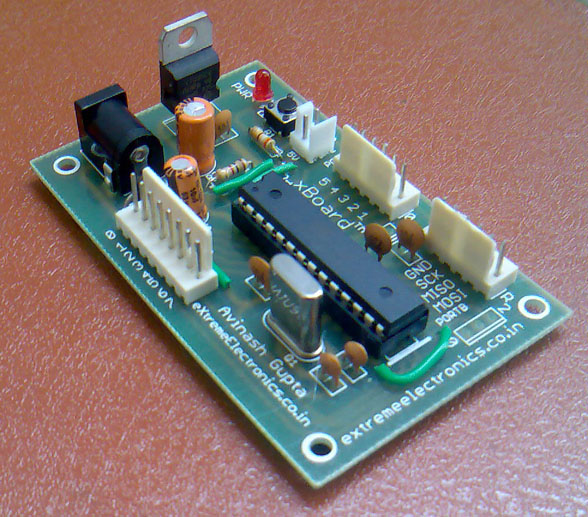 Fig – A simple ATmega8 Devboard
You can buy it from here at only Rs 450/-. Sorry, but currently I ship it only within India (no International shipping right now).
Download PDF version | Get Adobe Reader Free !!!
JLCPCB Prototype: $2 for 10 pcs PCBs, 48 Hours Quick Turn
China's Largest PCB Prototype Enterprise, 300,000+ Customers &amp 10,000+ Online Orders Per Day
Get quote online easily: https://jlcpcb.com/ quote
Facing problem with your embedded, electronics or robotics project? We are here to help!
Post a help request.