Recently I got the opportunity to work with an evaluation kit from element14. They bring development and evaluation kit for latest microcontroller, sensor and other electronic solutions introduced by several top notch companies. And user like me get the chance to get introduced with latest in technologies. And what is real worth telling is that these kits are really low cost !
For example Freescale recently introduced several MEMs sensors to measure parameters such as
Altitude.
Atmospheric pressure.
Magnetic field (to find orientation, like a compass)
Accelerometers.
All these are recently launched and thus were ultra modern with very small size and consumed minimal amount power. The xtrinsic sensor board from free scale has all these sensors on one small PCB.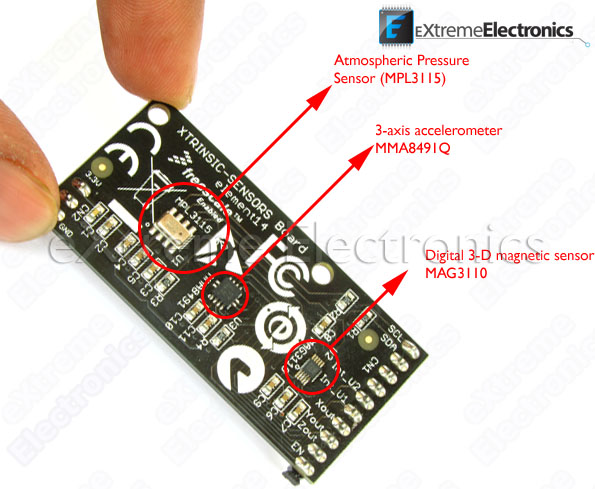 Xtrinsic MPL3115A2 Pressure Sensor – For sensing atmospheric pressure and altitude data. Altitude data can me measured with an accuracy of 30cm. Output can be selected in meters or Pascal. It is available in a small 3 x 5 x 1.1 mm LGA package. Interface is standard digital I2C, thus can be used with any type of microcontrollers. You can download the datasheet of the MPL3115 from the link. More information about MPL3115.
MMA8491, 3-Axis Digital Accelerometer – Tilt and acceleration sensor. Digital interface (I2C). Range of measurement 8g. Output data 14bits. Sensitivity of 1mg. Available in a tiny 3mm x 3mm QFN package.
MAG3110, 3D Magnetic Sensor. This sensor can be used for digital compass application in map based navigation service available on smartphones, tabs or vehicle navigation systems.
JLCPCB Prototype: $2 for 10 pcs PCBs, 48 Hours Quick Turn
China's Largest PCB Prototype Enterprise, 300,000+ Customers &amp 10,000+ Online Orders Per Day
Get quote online easily: https://jlcpcb.com/ quote
Facing problem with your embedded, electronics or robotics project? We are here to help!
Post a help request.