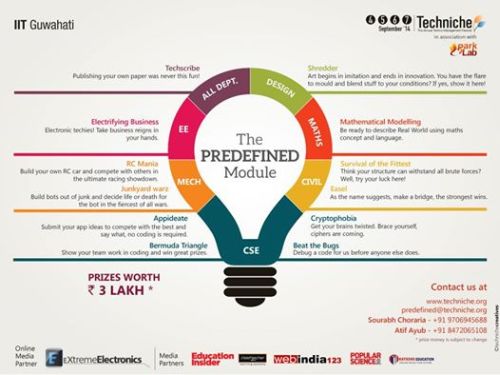 Stepping into the 16th edition of its annual techno management festival, IIT Guwahati is all ready to deliver its perennial technological overdose in the form of Techniche, to be conducted from 3rd to 7th September at IIT Guwahati campus. As always, this four days of fun, frolic and enlighten gives opportunity to students nationwide to display their skills and compete with some of the best competitive minds around. Filled with huge variety of events spanning the domain of technology, management and amusement, this festival is sure to leave every audience who attend IIT Guwahati spellbound. Started fifteen years ago in 1999, Techniche was conceptualised with an aim to motivate the youth of our nation to think out of the box, expand their horizons and reach the zenith of success in all techno-management spheres. It has stayed true to its vision since and never ceased to amaze. Techniche now revels in being one of the premier techno-management festivals of the nation. The competitions include Technothlon – the international school championship, Escalade-the annual robotics competition, Corporate module an innovative management face-off and others. The one module that catches the eye of every participant every year is the PreDefined Module.
Coming from its huge success at last years' Techniche, the PreDefined module this time around gives you the much needed fun element amongst the technical extravaganza. In one sentence, your preparation for the events decides the result, and hence the name. From building an RC car to solving real life issues and problems, predefined has it all. With the problem statements given way in advance , it provides the participants with enough time to research and discuss to come up with the best possible solution. It lets each participant face challenges, learn and have their own experience while going from the problem to its solution.
Here is a brief description of all the events being held, but more details along with suitable guidance can be found in our website.
Shredder: This is an online event. Art begins in imitation and ends in innovation. Techniche brings you the opportunity to make a scene your own brainchild. Participants have to shred-out scenes from different movies and blend it into their own movie with a different story-line.
Easel: The problem statement demands you to build a movable bridge out of everyday materials and test the mettle of a civil engineer inside you! The prototype has to be made at home and bought to the competition. This is not an On-spot event.
App Ideate: This event is aimed at those people who are not into coding but have innovative ideas to design and build apps. An online event, participants have to submit their ideas in detail and stress on its utility and neediness.
Bermuda triangle: An event that tests your coding skills with a little flavour to it. To crack this event you would need a concomitant effort. Work in groups of three and showcase your teamwork and parallelism. This event not only tests your ability to code algorithmically but also on the importance and ability to make the code look presentable and understandable.
Cryptophobia: This event is designed to test your presence of kind and concentration power. Expect a wide variety of puzzle-based questions pointing towards answers in the realm of technology, logic and yes ciphers! People with in and out supremacy over logic may excel in this event.
Electrifying business: This event is designed to give you a chance to test the market applicability of all theories that have been taught to you in your lectures. The participants will have to buy the electronic components with the virtual money and in the end the most economical design wins the contest. This contest requires basic knowledge about both business and electronics.
RC mania: This is considered the most enthralling event amongst all the above listed. The participants have to build an RC car and battle it out on a track with co-participants. The design has to be robust and innovative and strong enough to finish the race-course. Attracting huge participation nationwide, this is set to be even bigger this time with some surprises in store.
The event is also supported by our partners, who are an integral part of the fest. All the above listed events are open for all and there is absolutely no age-limit. The Prize money is worth around 3 Lakh rupees and the registration is free. Interested students can login to http://techniche.org/techniche14/events/predef.php and grab a chance to participate in the events. People can alternatively contact Atif Ayub at 08472065108 for details regarding the competitions or registration.
JLCPCB - Prototype PCBs for $2 + Free Shipping on First Order
China's Largest PCB Prototype Manufacturer, 290,000+ Customers & 8000+ Online Orders Per Day
10 PCBs Price: $2 for 2-layer, $15 for 4-layer, $74 for 6-layer
Facing problem with your embedded, electronics or robotics project? We are here to help!
Post a help request.