Thanks for selecting PIC development board from eXtreme Electronics. Now lets get familiar with this powerful and easy to use system.
Introduction
This board will help you build and test any project with PIC microcontroller quickly and easily. It can be used to work with any 40 PIN PIC micros. The board provides the basic environment for the PIC to run. The great advantage of the design is replaceable prototyping area. All ports and power supply is available on 40 PIN female connecter. You can easily attach a normal veroboard with help of 40 PIN male headers. Now all PORTs of MCU is available on the veroboard where you can design the rest of your project. In this way you can create many different project with same development board, you just need a blank veroboard. By using this technique the "rest" of your project and the development board are paired firmly, both electrically and physically, yet flexibly separable!
Features
Incircuit Serially Programmable with eXtreme Burner – PIC.
PIC 18F4550 Included

USB 2.0 Support
Running @ 48 MHz (12MIPS) with 20 MHz crystal. (Using on chip PLL)

Inbuilt 5V regulator with reverse voltage protection
Power Switch (on/off)
Power LED
Reset Button
RS232 Interface with DB9 male connector.
2 x Extra 5v Out
All ports on linear 40 pin female connector.
Replaceable prototyping area
1 user programmable LED
1 user programmable Button.
Add on Board Support (Many Add-ons Coming Soon…)
Board Overview
POWER IN – This is a standard DC adaptor socket where you can connect a 12V DC adaptor to power the whole system.
ON/OFF SWITCH – To Turn On and off the board use this switch.
POWER LED – Indicates the status of power in system
USER LED – This LED is connected to RB1 through jumper J5. This LED is used as a user programmable LED. When you no longer need this LED in your project you can easily disconnect is by removing the jumper J5.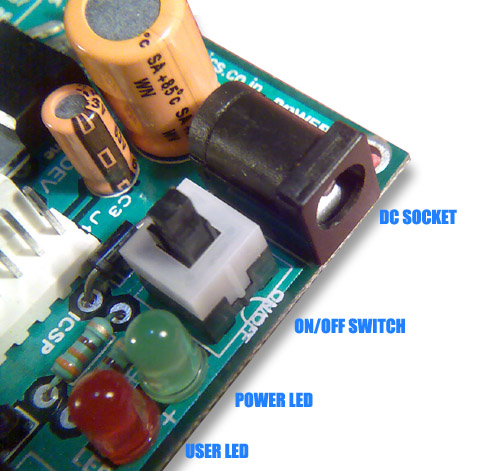 IR Receiver – A 38KHz Modulated Infrared received module for IR data communication (like IR remote). The output of the module is connected to RB0/INT0 of the MCU. When an IR light modulated at 38KHz falls on this sensor the output becomes LOW(0V). When no IR light is available the output is HIGH(5v).
USER BUTTON – This button can be programmed for input. It is connected to RB4
RESET BUTTON – Resets the MCU.
SERIAL PORT – Used for communication with PC and other RS232 devices.
EXTRA 5V OUT – Provides a regulated 5v output. It can be used to power external hardware Their are two 5v supply onboard.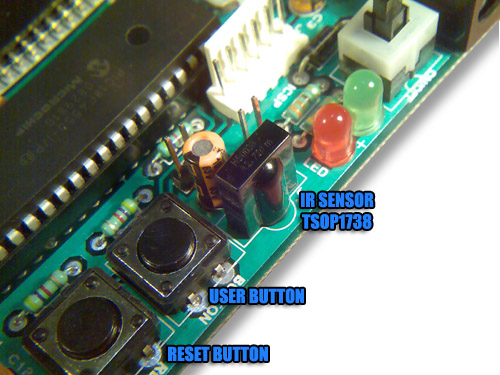 ICSP PORT – This is a Six PIN male connector used to upload programs to the microcontroller.
EXPANSION PORT – Now this is the most special feature of our PIC development board. All the PORT PINs of MCU and extra Power Supply is available as single 40 PIN Female Connecter. Here addon boards (like User Interface Board, Motor Control Boards or Custom boards can be connected. For more information on this technique please see expansion support.
Return to Help Index.
JLCPCB Prototype: $2 for 10 pcs PCBs, 48 Hours Quick Turn
China's Largest PCB Prototype Enterprise, 300,000+ Customers &amp 10,000+ Online Orders Per Day
Get quote online easily: https://jlcpcb.com/ quote
Facing problem with your embedded, electronics or robotics project? We are here to help!
Post a help request.