We have launched a low cost 28 PIN AVR Development board for those you want to get started with AVRs on a budget. As this board provides a clean circuit for basic AVR connection you can learn to program hello world app (a LED blinky) in just few hours! If you are tired of wiring the basic AVR connection for every project, this board can save you a lot of time.
You can order it from the online store and pay using Indian Debit Cards (or ATM Cards) or Netbanking. The board will be delivered to your door steps in 3-5 days any where in India.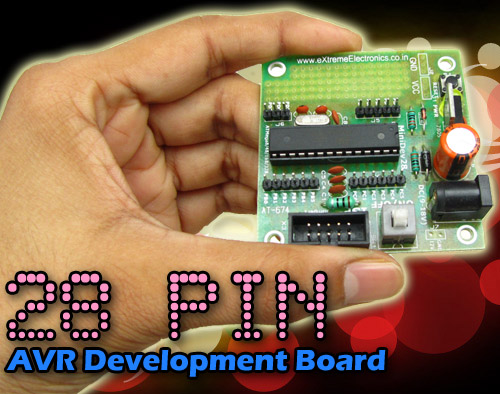 28 PIN AVR Development Board.
28 PIN AVR Development Board.
Features:
Compatible with 28 pin chips like ATmega8,ATmega48,ATmega168, ATmega328 etc.
Atmel AVR ATmega8 28 PIN microcontroller Included.
16 MHz crystal for maximum speed.
All ports available on standard 0.1inch (2.54mm) male headers.
LC Filter on AVcc for clean ADC performance.
Decoupling capacitors on all power pins.
Standard ISP Header (Can be programmed with our USB AVR Programmer v2.0).
On/Off switch.
9-18V DC input.
5v regulated output for supplying extra peripherals.(3x).
Reset Button.
Power Indicator LED.
Free Prototyping area for customization(78 holes at 0.1 inch distance)
FR4 PCB with solder mask and silkscreen.
All PCB Pads tinned.
JLCPCB Prototype: $2 for 10 pcs PCBs, 48 Hours Quick Turn
China's Largest PCB Prototype Enterprise, 300,000+ Customers &amp 10,000+ Online Orders Per Day
Get quote online easily: https://jlcpcb.com/ quote
Facing problem with your embedded, electronics or robotics project? We are here to help!
Post a help request.